User management
Creating different users allows you to manage the rights of each user of the press.
You can access to the user management window from the menu bar by clicking on "?" then "User management".
If you have not yet created users, the user "None" will be Administrator, this means that if no user is connected, you can use all MecaMotion functions. (figure 1)
Figure 1: User management
If you want to add users, you must first create an administrator user. In the example below (figure 2), we have created an "administrator" user whose name is "Admin".
Once you have created an administrator user, you can choose that when no user is logged in, no MecaMotion functions are available, to do this, choose the type "No rights" for the user "None".

Figure 2: Creating an administrator user
To assign a password to the user you have just created, close the user management window by clicking on "OK", click on "?" in the menu bar then "Login". (figure 3)
Figure 3: User login
Enter the name of the user you just created in the "User" field and click on "Login". You can leave the "password" field blank.
A new window opens (figure 4), in which, you must enter a password for this user. When you have entered the password, you will automatically be logged in as this user, to logout you must, click on "?" in the menu bar, then "Logout".
You can view the logged in user at any time at the bottom right in the main window.
Be careful: When you create an administrator user, make a note of the password you entered, because if you lose it, you will no longer be able to access the user management window.
Figure 4: Creating a password
Several types of users have already been created, but you can modify them or create new ones.
In the figure 5 below, we have created the user type "Technician", we give all the rights to it except the modification of production orders and the deletion of results.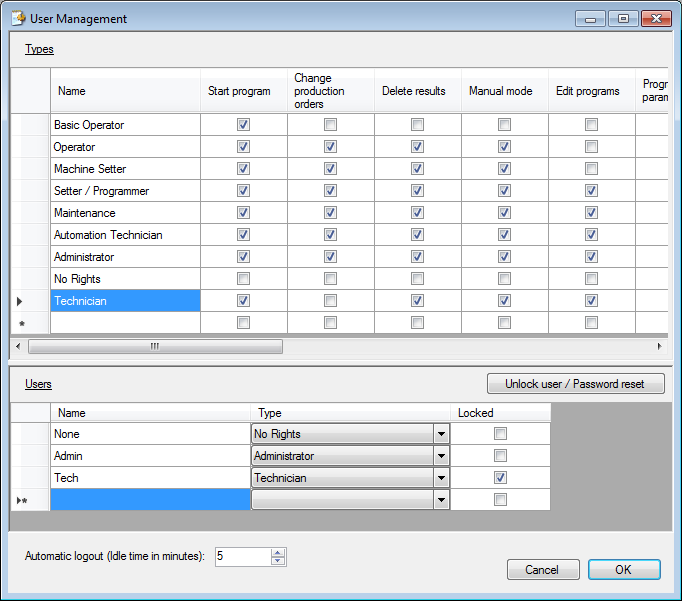 Figure 5: Creating a user type
You can choose the time after which the logged-in user is automatically logged out if he is inactive. Enter a time in minutes in the "Automatic Logout" field at the bottom of the user management window.
If you forget a user's password, you can unlock this user and reset his password from the user management window by logging in as an administrator.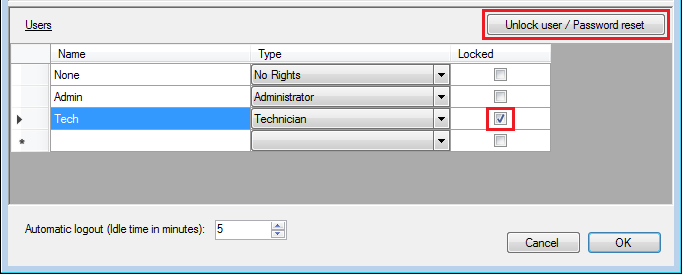 Figure 6: Password reset